THE CLINICALQ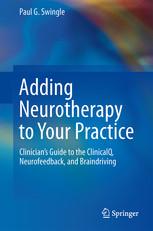 The ClinicalQ is a brain assessment method developed by Dr. Paul G. Swingle that records EEG activity at five sites (Cz, O1, F3, F4 and Fz). The recording is then compared to a clinical data base comprised of data from over 1500 clinical clients (i.e., EEG records from individuals who report clinically significant symptoms). The organizing logic is that clients who report a condition (e.g., depression) have a neurological representation of that condition.
Dr. Swingle's method is fully described in his book Adding Neurotherapy to Your Practice (Springer) which guides the clinician through the assessment and interpretation of results, and provides neurofeedback protocols assisted by harmonic entrainment to retrain brain function. The ClinicalQ Assessment can be adapted to most EEG systems and is used by healthcare professionals around the world.
---
THE CLINICALQ REPORT WRITER
The ClinicalQ Report Writer answers the demand from users of Dr. Swingle's method for a client report that explains the results of the assessment in simple to understand language. This valuable tool helps clients understand the data from their assessment by presenting information found to be statistically associated with their specific brainwave characteristics.
From the ClinicalQ data, twenty-four summary statistics are inserted into the Report Writer. These statistics can be entered manually, uploaded from the BFE ClinicalQ software suite or from a .csv file. Recognized patterns in the summary statistics generate narratives explaining the relationship between these patterns and client's reports of their symptoms. More comprehensive qualitative clinical impression narratives are subsequently derived from statistically identified configurations of the patterns.
This report is NOT diagnostic.
---
ABOUT DR. PAUL G. SWINGLE

Paul G. Swingle, Ph.D. R.Psych. was Professor of Psychology at the University of Ottawa prior to moving to Vancouver where he is now Director of the Swingle Clinic. A Fellow of the Canadian Psychological Association, Dr. Swingle was Lecturer in Psychiatry at Harvard Medical School and during the same time period was Associate Attending Psychologist at McLean Hospital (Boston) where he also was Coordinator of the Clinical Psychophysiology Service. He is a Registered Psychologist in British Columbia, certified in Biofeedback and Neurotherapy. His recent books include: Biofeedback for the Brain (Rutgers University Press); Adding Neurotherapy to Your Practice (Springer); When the ADHD Diagnosis is Wrong (Praeger).